Turku Port commits to Turku City's climate work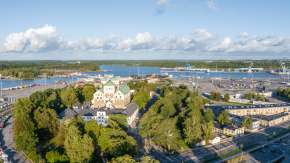 Turku aims to be one of the world's leading climate, environmental, and nature cities. The goal is to become a carbon-neutral urban area by 2029.
In the spring of 2022, Turku was selected to participate in the EU's mission of 100 carbon-neutral cities. All cities selected for the city mission must enter into a climate agreement with the European Commission, committing to achieving carbon neutrality by 2030. The 100 cities chosen for the program serve as examples for others so that all European cities can become carbon-neutral by 2050.
Local, national, and EU-level authorities will be involved in the climate agreements. At the same time, a new role is offered to the residents of the cities to act as catalysts for change. Examples of measures to be taken in the agreements include new urban planning, sustainable urban transportation solutions, and residential areas with climate-positive energy use.
As part of the goal, Turku has invited local companies and other stakeholders in the region to sign their own climate commitments as part of the climate city agreement.
By signing the commitment, Turku's climate partners declare their commitment not only to achieving the Carbon-Neutral Turku 2029 target and emission reductions but also to communicate their organization's climate actions, serve as a model for climate work, and participate in Turku's climate team activities.
Port of Turku is one of over twenty stakeholders in the Turku region that has signed up by committing to the climate agreement.