We will be participating in TransLogistica Poland fair in November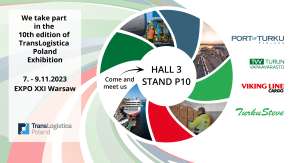 We will be attending the TransLogistica Poland 2023 event in Warsaw from the 7th to the 9th of November, along with three of our partners. In addition to our Harbor representatives, you can meet logistics professionals from Turku Stevedoring, Turku Free Warehousing, and Viking Line Cargo at our booth H3/P10.
TransLogistica Poland is the leading in Poland and Central-Eastern Europe business event for entrepreneurs who use or seek transport and logistics services, as well as for everyone professionally associated with the industry.
TransLogistica Poland provides an opportunity for transportation clients and freight owners (manufacturers, retail chains, operators in various distribution sectors, etc.) to find comprehensive and high-quality logistics services for their products.
At our booth, you can meet our partner companies that operate within our port and enhance the efficiency and reliability of transportation chains. Turku Stevedoring offers loading and unloading services, crane services, warehouse logistics, and project cargo handling with versatile equipment and skilled staff. Turku Free Warehousing, located near our port, serves industries such as shipping, automotive, and construction by providing short- and long-term storage, 3PL, and logistics services, as well as solutions for large or small logistics projects. Viking Line Cargo offers regular, high-quality, and environmentally friendly sea routes between Finland and Sweden, as well as Finland and Estonia, ensuring smooth transportation for its customers.
Together with Turku Stevedoring, Turku Free Warehousing, and Viking Line Cargo, we welcome our current and future customers to our booth, where we are happy to discuss how we can serve the logistics industry.
Welcome to meet us in Warsaw in November!