Demolition of the port's old passenger pavilion begins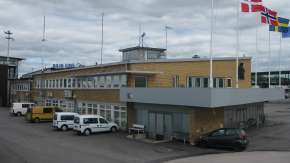 The passenger pavilion, completed in 1956, located at the tip of Linnanniemi, will be demolished. The building is in the way of the renovation works of the platform and the construction of new passenger corridors in the area. In addition, the building is in a low sea flood hazard area and would be too low in relation to future buildings/structures. The height of the building's floor is remarkably low in relation to the ground level of the surrounding area and the edge height of the pier to be renovated.
The passenger pavilion, designed under the direction of city architect A.S. Sandelin, was completed in 1956 and inaugurated in 1957. Much attention was paid to the representativeness of the building. The wall of the waiting hall was decorated with a large fresco painting "Gateway to the East and West" by the artist Hilkka Toivola. Those coming from the sea were greeted by the bronze relief on the facade of the building, artist Jussi Vikainen's "Waiting on the shore". 1972, Silja Line's new octagonal terminal was completed on the north side of the passenger pavilion, and the old passenger pavilion was repaired for the needs of port control and customs operations.
The building has not been a protected site in the site plan, but in connection with the Ferry Terminal Turku project, negotiations have been held with the Finnish Heritage Agency about the building's conservation values and demolition has been approved on the condition that the bronze relief of Jussi Vikainen's Waiting on the Beach and Hilkka Toivolan's Gate to the East and West fresco on the facade of the building are moved from the road. Both have already been moved at the expense of Port of Turku Ltd.
Pavilion's demolition work will start at the beginning of June in the week of 23/2023. The demolition site is located in closed ISPS area closed.