Charging stations for electric cars in the Passenger harbour of Turku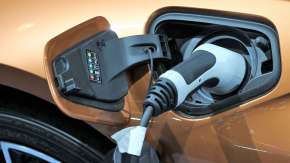 As the sale of electric cars increases, customers traveling through the Port of Turku also need more and more charging stations for electric cars. Building charging points to meet the needs of passengers was a very natural choice for us, as we want to invest in sustainable development in our operations.
In our Passenger harbour, 20 charging points for electric cars have been completed at Kolmas linja. The charging points built in cooperation with Turku Energia are in the immediate vicinity of Tallink Silja and Viking Line passenger terminals.
The charging stations are part of the USER-CHI project funded by the European Commission's Horizon 2020 program, within the framework of which Turku promotes European electric mobility together with Berlin, Barcelona, Budapest and Rome.
USER-CHI promotes sustainable electric mobility through charging infrastructure experiments and planned development. The project's experiments bring important information about the conditions for electric mobility in different conditions, and comprehensive user studies help to develop public charging in Turku.
Charging points in Passenger barbour work with the easy-to-use eParking application, as well as in the browser on the eParking website.