Port of Turku, FREJA, Turku Stevedoring and Turun Vapaavarasto at transport logistics 2023 in May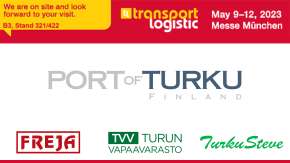 We will participate in the transport logistic 2023 event in Munich with our three partners from 9 to 12 May. At our stand B3.321/422 you can meet representatives of FREJA Transport & Logistic, Turku Stevedoring and Turku Vapaavarasto in addition to us.

FREJA Transport & Logistic offers special transport, logistics and storage solutions in Europe and all over the world with customized personal service and guaranteed quality.

Turku Stevedoring offers stevedoring services, crane services, warehouse logistics and project cargo handling in our port with versatile equipment and professional personnel.

Turun Vapaavarasto, which is located in the immediate vicinity of our port, serves e.g. shipping, automotive and construction industries by offering short- and long-term storage, 3pl and logistics services as well as solutions for large or small logistical projects.

transport logistic is the leading international trade fair for logistics, mobility, IT and supply chain management. Being considered the leading platform for international networking in the logistics industry, this four-day trade show offers innovative products, systems and technologies as well as a wealth of expert knowledge.

Together with Turku Stevedoring, FREJA and Turku Vapaavarasto, we welcome current and future customers to our stand and we are happy to tell you how we can serve logistics industry operators, for example in the transportation, handling and storage of project transports.

Welcome to meet us in Munich in May!