Transition to electric cars in Port of Turku is progressing according to plans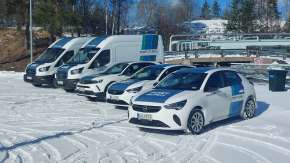 One of the most important goals of our environmental program is reducing the carbon footprint of our operations. We want to reduce emissions into the air by 40 percent between 2008 and 2025, and renovating the Port's own vehicle fleet to electric is one important way to achieve this goal.
Renewing the cars to be electric started in February 2021 and now seven of the eleven cars at the Port are electric. All cars will be replaced with electric cars as suitable replacement cars become available.
Our experience with electric cars has been good. The distances driven are mostly short, so electric cars are excellent for the use of the Port. Thanks to the long operating range, the day's rides can mostly be done with one charge.
The transition to electric cars is a continuation of our other green reforms, which also support the city of Turku's goal of carbon neutrality. Examples of measures that have already been taken include changing the lighting in the port area to energy-saving LED lamps, lowering the temperatures in rooms where this has been possible, and anticipating the possible shore power needs of ships in connection with basic improvement works on the piers.