The planning area for Ferry Terminal Turku city plan was expanded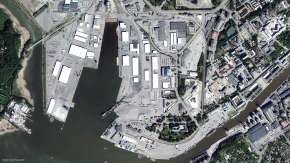 The Urban Environment Committee of the City of Turku approved on 13 September the complemented goals of the amended plan for Ferry Terminal Turku. The most recent adjustments of the goals and area limits are based on the decision of principle on the port railway tracks made by the City Board on 6 June 2022 (§ 269). The City Board decided to base the planning on the option in which the tracks approach the passenger harbour from north, from the direction of the Pahaniemi bridge. In order to enable the relocating of the tracks, areas from the north side of the passenger harbour area were added to the amended planning area to allow for railway and street connections. The limits of the area will also be adjusted in the southern part of the planning area in such a way that the limits are compatible with the amended city plan for the Museum of History and Future to be located next to it.
Goals of the plan
The goal of the amended city plan is, in accordance with the City's strategic goals, that the operations of the port area will develop as part of the developing maritime Turku and that the new port terminal will for its part strengthen Turku's logistical position. The port terminal is linked as part of the international TEN-T transport network.
The amended plan enables the implementation of the new port terminal and the buildings, traffic connections and parking arrangements related thereto. The goal is to achieve cost benefits through new solutions and enhance the operating of vessel traffic. In addition, the implementation of the new terminal offers a natural opportunity for up-to-date development of safety. The goal is to have the terminal and the new traffic connections in use by 2027.