Measurement of shipping air emissions as a pilot project in the port of Turku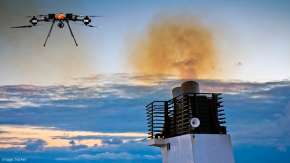 Port of Turku is conducting a pilot of measuring air emissions from shipping with the Finnish-Norwegian technology company NUAer.
The Port of Turku is one of Finland's leading ports also from the point of view of environmental issues and sustainable development. Now the Port is taking a new step in the green direction based on research results. Shipping emissions monitoring will be implemented in week 39.
NUAer is a Norwegian-Finnish company that utilizes mobile emission measurement technology, a "sniffer" drone that sniffs ship emissions. The drone is equipped with a special sensor, that reports air pollution caused by ships in real time. Weighing less than a kilogram, the measuring device can be used as a handheld unit or with a drone.
With the help of sniffer-drone technology and real-time measurements, the Port gets facts and answers about what kind of air emissions ship traffic causes in the vicinity of the port. The measuring device can be used to detect, measure, and visualize various gases and particles. In the future, with the help of such technology, for example, it would possibly be easier for the authorities to monitor how shipping companies and ships comply with international emission regulations.
"NUAer operates in several countries, but we are especially happy to be able to use the technology in our 'home country' Finland", says Kristin Alne, CEO of NUAer.
After the end of the test period, NUAer and the Port of Turku will internally analyze the accumulated measurement data.