News in the Ferry Terminal Turku project – May 2022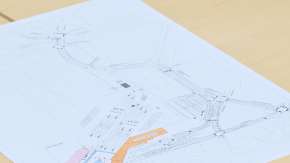 Project management contracts in construction and building services system for the terminal building
Tendering for project management contracts regarding the design and construction of the terminal building is in progress. The offers for those will be submitted in week 25/2022, and the goal is to make the decision on procurement in week 26/2022.
The designing of the terminal building continues with a development phase together with designers, users and project management contractors. The development phase will commence in late summer 2022 and extend to spring 2023, when the project will shift to the implementation phase. Once the assignment contract on principal and architectural design has been signed, the next development phase will focus on improving the functionality and use of the premises in particular, in co-operation with the future users, designers and project management contractors.
Competitive bidding for special designers of the terminal building
Competitive bidding for the special designers of the terminal building will commence after choosing the architect, and the aim is to publish the procurement notice as soon as possible after the winner of the architectural competition has been announced.
Contract for Viking Line's pier
The last day for submitting contract offers for Viking Line's pier is 25 May 2022. The preliminary plan is to make the procurement decision on 15 June 2022, and according to the tentative schedule the contract agreement will be signed by the end of July 2022.