Environmentally sound smart waste bins to be installed in passenger harbour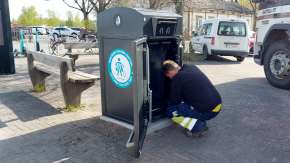 New kind of smart waste bins will be installed in the Turku passenger harbour area to enhance and rationalise sanitation.
The waste bins can be called smart due to their qualities that enhance sanitation. Developed and manufactured by Lehtovuori Oy, the City Solar smart waste bins have a feature that automatically reports accurate fill rate information to the waste management, so unnecessary driving to half-empty waste bins will no longer be required. The software updates the location data and fill rate of the waste bins in real time in the map view.
Furthermore, the new waste bins need not be emptied as often as traditional bins, as their compactor feature means room for more waste. The compactor feature is solar powered and allows for up to 20 times more waste compared to a traditional bin, so it deceases the need for emptying and thus also emissions.
Saving energy and reducing emissions are part of our environmental programme, and smart waste bins support our goal to decrease greenhouse gas emissions.