Viking Glory is being prepared to start operating in Turku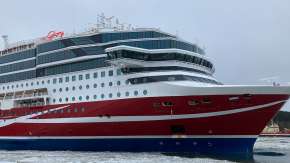 Viking Glory, which arrived in the port of Turku on Sunday, February 6th, has settled at the port's quay to be equipped.The ship set sail for Finland in December 2021 from Xiamen Shipbuilding Industry. The ship was brought home by Ulf Lindroos with his crew of forty. The journey through the Suez Canal and the Strait of Gibraltar, among others, took about five weeks.
During the voyage, construction and finishing work was carried out on the ship, and the crew spent time getting acquainted with the new ship and its operations. Several Finnish and Scandinavian companies have been involved in the creation of Glory but have not been able to enter the Xiamen shipyard due to the corona pandemic. Now that the ship has arrived in Turku, the finishes will be taken care of so that the ship is ready to start operating in the beginning of March.
The biggest work is building and furnishing a 1,400-square-foot tax-free store. The store's shelves and cash registers will be installed in place and all products must be brought on board and shelved in their own places. There are about 200 subcontractors working inside the ship, and in addition to them, the ship's employees are getting to know their new workplace. Prior to the start of operations, Viking Glory will conduct a few test voyages, during which it will test the ports of Mariehamn, Långnäs and Stockholm, and the ship's crew will undergo safety training.
Passengers are interested in Viking Glory. When the booking for cruises started in Finland and Sweden in September 2021, Tens of thousands of bookings were made right away. One of the ship's specialties is the spa & wellness area, where passengers will be able to do yoga and work out in the middle of archipelago setting.
The new vessel will offer new winds not only for cruise traffic but also for cargo traffic. Glory is about 60 percent bigger than its predecessor, Amorella. Amorella has less than 900 meters of cargo space, Glory has 1,500 meters. When there is more capacity at each departure and it is well managed, freight transport also becomes more environmentally friendly. For lorry drivers, Glory offers its own section located in a quiet part of the ship, which includes some 70 cabins as well as sauna facilities and a lounge