Viking Glory arrives in Turku accompanied by celebrations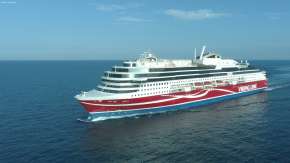 Viking Line's new ship, the Viking Glory, has traveled five weeks across the seas to get home. The voyage will reach its climax on Sunday, February 6th, when the ship arrives in the port of Turku.
Viking Glory will be received in the Port of Turku by the Arma Aboa Association's artillery of cannons, day-time fireworks and the navy band's ceremonial marches under the direction of Viking Line's mascot, Ville Viking. The public does not have access to the closed harbour area, but the arrival of Viking Glory can be followed in Ruissalo People's Park. The public will also be able to take part in the celebration via a live webcast on Sunday, February 6th, at 11:15 am at the address www.livekatsomo.fi/viking-glory-in-turku.
Viking Glory, which will replace Amorella, will increase Viking Line's passenger capacity on the Turku–Mariehamn–Stockholm route by about ten per cent. The vessel handles about 60 per cent more cargo than its predecessor.
Although Viking Glory has significantly more capacity than Amorella, the newcomer has not required any new investments in port. However, changes are promised at the mouth of the river Aura since a new joint terminal is being built for Viking Line and Tallink, with completion planned for December 2025. In conjunction with the new building, cargo handling will be digitised and road and rail links to the port will be improved.
"We are really excited about Viking Glory's arrival. In our experience, a new vessel makes the entire route more attractive and increases passenger volumes. Before the Covid pandemic, we had more than three million passengers annually and now, post-pandemic, we see that there is great pent-up demand for travel. The future looks bright in every way," says Erik Söderholm, managing director of the Port of Turku.
After the welcome ceremony, the vessel will be outfitted in port and the vessel will launch service on the route on March 1.