Port of Turku calendar 2022 has been published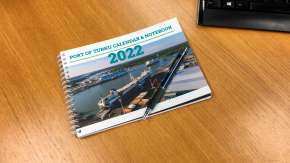 The year is coming to an end and many are already turning their eyes towards the coming year. Although we are a modern and renewable port, we still stick to certain traditions – one of which is the Port Calendar. Over the years, the calendar has changed in shape, its appearance has changed, and the content has been adapted to better meet the needs of users. But one thing is and will remain; our thoughts that time matters and we want to help manage it.
The calendar for 2022 contains basic information about our port, its areas, operations, and services. The clear calendar section has plenty of space for calendar entries, and if necessary, additional entries can be written in a separate notebook section.