The draft site plan for the Ferry Terminal Turku project was approved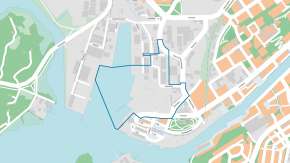 The Ferry Terminal Turku project moved forward again, when the Turku Urban Environment Comittee approved the draft site plan on Tuesday, which discusses the main principles of the project. At its meeting, the board decided on the approximate location of the passenger port and the preliminary maximum height for the terminal building.
According to the decision, the water ceiling of the new terminal may reach a maximum of 19 meters above sea level. In the case of passenger corridors, the height may reach 18.5 meters. The height restrictions are intended to ensure that the new terminal does not cover Turku Castle behind it.
The plan is made for an area of approximately 38.5 hectares, and it shows the right to build 50,100 floor square meters. The Art nouveau building, built in 1911, located at Linnankatu 87, which has previously functioned as a restaurant pavilion, a police station and a sailor's home, has been marked as a protected area in the draft plan. The old passenger pavilion located at the tip of Linnanniemi will probably not be preserved due to the building's extensive moisture problems. Despite possible demolition, Hilkka Toivola's fresco and Jussi Vikainen's bronze relief must be recovered from the building.
In connection with the zoning of the Ferry Terminal Turku project, the relocation of the passenger rail to the north side of the passenger harbour was previously discussed, but the board removed the relocation of the rail from the goals of the zoning change when it considered the issue in January. The track is not included in the draft plan of Ferry Terminal Turku, but its fate will be decided in connection with the planning of the History and Future Museum planned for the Linnanniemi area.