The Ferry Terminal Turku architectural competition will start in mid-October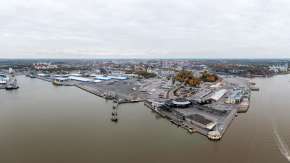 The Port of Turku is organizing an architectural competition to select a designer for a new passenger terminal. Perhaps the most interesting part of the Ferry Terminal project is the new passenger terminal, which will be shared by both shipping companies. The building will serve passengers for decades and its location in the harbor environment close to Turku Castle will make the site significant from a cityscape point of view. In addition to high architectural quality, a successful passenger experience is of paramount importance to us and will also be taken into account in the selection of a passenger terminal designer. By organizing a two-stage invitational competition, we want to contribute to the creation of a comfortable urban environment for the people of Turku.
Five design teams will be invited to participate in the passenger terminal architecture competition through an open registration procedure. The competition notice will be published in the Hilma database of public procurement at www.hankintailmoitus.fi after mid-October.
A contract is to be signed with the winner of the competition for the main and architectural design of the passenger terminal. The passenger terminal contractor will later be tendered separately. The new passenger terminal is scheduled to open from 1 January 2026.
Hankintakumppanit Oy acts as the competition consultant in the architectural competition.