Port of Turku was granted CEF support for an infrastructure development project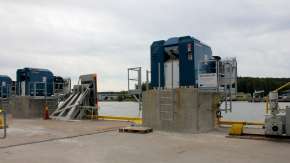 The EU granted support to three transport projects in Finland through the Connecting Europe Facility. Port of Turku infrastructure development planning received EUR 2,133,540.
The aim of the funding granted by the European Commission is intended to further the investments made to the Trans-European Transport Network (TEN-T). The call prioritised proposals that aim to start construction in 2021–2024. National funding is a requirement for receiving the EU funding, and the government of Finland has committed itself to funding the CEF-funded transport projects located in the state-owned transport network.
The Port of Turku Infrastructure Development Project involves the planning of several development measures for infrastructure, logistics, and safety in the Port of Turku to meet growing transport needs. The project optimises port functions by streamlining traffic arrangements, automating traffic control at car parks , updating safety schemes, and improving the berths for passenger-cargo ships. The berths will be redesigned for the latest technology, including automated berthing and shore-side power. The owner of Port of Turku, the city of Turku, will also plan measures to develop the port's traffic connections.