FINENTRY service has taken into use in the port of Turku for persons who travel to Finland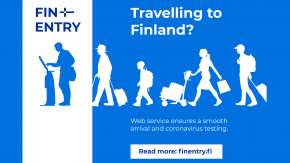 The FINENTRY service will be introduced on Thursday, June 17, 2021 in the ports of Turku and Naantali and at Turku Airport.
FINENTRY is a service that aims to make it easier to travel to Finland during the coronavirus pandemic. It provides travelers with information and instructions on coronavirus testing and self-quarantine.
We recommend using the service, as it can speed up the arrival process and help you get coronavirus testing in Finland free of charge. Getting a negative result from a coronavirus test can shorten your self-quarantine period.
FINENTRY enables you to do the following:
make an appointment for a coronavirus test in Finland
get instructions for arriving at your test via SMS
get your coronavirus test result via SMS.
Please note that a coronavirus test booked through FINENTRY service does not provide you with a separate coronavirus test certificate.
NB: The coronavirus testing requirements do not apply to cruise passengers who don't disembark in another country or travel to the Åland Islands.