We renewed our website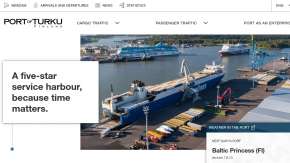 We have released our renewed website. The starting point of the reform was to better highlight our services and prerequisites for efficient and smooth passenger and cargo traffic from Turku to Scandinavia and Central Europe.
The aim of the reform was to improve the service to existing and potential customers as well as various stakeholders. We have invested in ease of use for both desktop and mobile use. The site now provides more comprehensive information about our operations, services, and operators in the port area.
Poutapilvi helped us to implement the look, functionality and technical aspects of the site, and Hanna Alin from Sanavalta supported the production of the texts.
However, the development of our website will not end with the release of the site, but we will continue to develop the webpages. We welcome feedback on our new website! You can give feedback via the feedback form on our contact page or by email to markkinointi.satama@portofturku.fi