Changes in traffic arragements for Tallink Silja's car traffic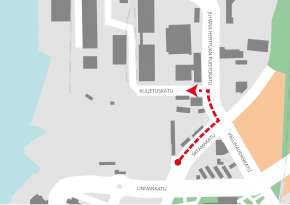 Tallink Silja's car traffic will start using the same field as cargo traffic as of 22 April. Passengers travelling with a vehicle will enter the ship in the future via Kuljetuskatu (Kuljetuskatu 4).
The change will have the greatest impact on passenger traffic practices, but also on other inbound traffic through Kuljetuskatu. Both passenger and freight traffic drive into Kuljetuskatu from the same intersection, after which they are directed to their own lanes.
Concentrating cargo and passenger traffic on the same field is part of the EU CEF-funded NextGen Link project, one of the goals of which is to improve the movement of passengers and cargo between Finland and Sweden. As part of the project, Tallink Silja's field has been levelled and the traffic control developed by concentrating passenger and cargo traffic on the same field and installing digital driving signage on the field.