Intensified security control in the Port of Turku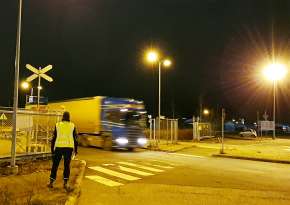 An intensive security control campaign was carried out in our port area on Friday 27.11. The goal of the intensive control morning is to ensure safe passage for everyone in the port area. The Port of Turku is responsible for the port as a common workplace and we want all actors in the port and those who move there to be able to work safely in the area.
During the morning, movement in the port area was monitored more efficiently than usual of those moving on foot, by bike or in various vehicles. The staff was also assisted by Hugo Hurme, a student of the security sector, who found the intensive control campaign an interesting part of the on-the-job training period.
The campaign paid special attention to the use of the right routes and appropriate equipment, i.a. reflective vests / workwear and vehicle lighting. Reflective vests were distributed to those who lacked one.
"The intensive control morning went well overall," says Pauliina Roti, Security Manager. "Some small remarks were made regarding the visibility of pedestrians, but there were no major safety breaches in the area. It is great to see that security issues have been taken well into account both by the operators in the port and by those who do business there," Roti adds.
Our goal is to continuously develop our operations. "Through security-related measures and continuous risk assessment, we ensure the safety and smooth operation of passengers, cargo and port workers in the port area," says Roti.
The results of the security control will be used to develop security issues and will be reviewed in an operational meeting with companies operating in the port.