The port will be cleaned up together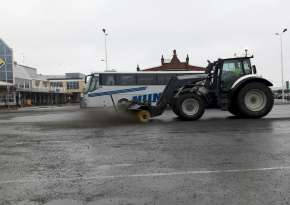 We intend to clean up the entire port area before the onset of winter in cooperation with the area's operators. We kicked off the cleaning last week starting at the West Harbour, proceeding towards the passenger harbour. The purpose is to go through the whole port and clean up everything that doesn't belong there.
"The cleaning days have gone very well. However, there has been more to clean up than expected, which has led to the work still going on. The piers, fields, warehouses, shelters, fences have been cleaned and the waste stations have been inspected. The partners have been active and participated enthusiastically, a big thank you to them. The event will be reorganized if necessary, but the intention is, of course, that in the future the places will stay clean all the time," says Deputy Harbor Master Teemu Aaltonen.
Even after the major cleaning, we will actively monitor the cleanliness of the fields. In addition to the environmental aspect, the cleanliness of the port is also an important safety issue. We hope that through this we will be able to maintain a high level of occupational safety. We also want to emphasize the common solidarity of the port's cleanliness.