Pilot produced information about the possibilities of utilizing the 5G network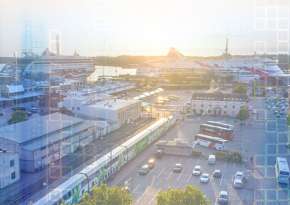 Our goal is to serve operators and customers in the port area now and in the future. With digitalisation maintaining the level of service requires finding the best network solutions for the needs of the future. The goal is supported by 5G piloting, which we implemented as part of the SecurePax project in cooperation with Turku University of Applied Sciences.
During the pilot Turku University of Applied Sciences tested the functionality of the 5G network in the port area with its own equipment. The tests revealed that the 5G network of commercial operators has poor coverage in the port area. If the networks of commercial operators were to be used in the port areas, the operators would have to strengthen their networks.
– Before building your own private 5G network you must consider what you need it for. We currently have an efficient fiber optic network. A faster 5G network could serve, for example, the communication needs of ships and the automation of various functions, says Markku Alahäme, Technical Director of the Port.
Investments in the 5G network are still pending as the port's future passenger terminal location is still open. The location of the terminal will significantly affect the placing of the base stations required by the 5G network so that there are no blind spots in the area. A proposal for the location of the new joint terminal is expected later this year.
– Projects such as the 5G network pilot project support our goal of being the port of the future, where the competitiveness of the port area operators and their customers is ensured, says Alahäme.