Taking vessels safely to the quay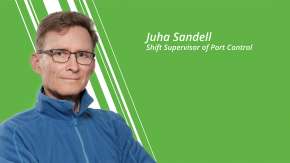 Juha Sandell, Shift Supervisor of Port Control, has had a long career at the service of the Port of Turku. He got a summer job in the Port during his maritime studies in 1985, and in was hired in a permanent post in Port Control in 1994.
"The Port fascinated me as a workplace, because the archipelago spirit was strongly visible in the working community, and Swedish-speaking colleagues added a new dimension to conversations", Juha reminisces.
At the core of Port's operations
The basic idea of the work in Port Control has not changed over the years, but many methods and settings have developed. The technology of the vessels is also different, and their size has grown.
"Nowadays, safety is emphasised in all operations of the Port, which is of course good from the point of view of smooth flow of work and well-being of people", Juha says.
Juha appreciates the Port's long history, and sees the foundation of existence in the background of all development steps.
"In port operations, automation and technical solutions are modern features, but the core of port operations has remained the same for centuries. Goods and people need to be carried efficiently", he explains.
Work that requires skill
Juha works as a Vessel Services team supervisor. Work is done in two shifts, and typically the busy times come in cycles. When a ship arrives, it needs to be ensured that it is moored as planned for stevedoring.
"The effects of weather conditions need to be taken into account in vessel services, because storms and ice formation hamper the operations", Juha says.
Good professional team
For Juha, the Port is the tight place, and he likes his job.
"There is good equipment and nice staff in the Port. The Port Control team is a tight group that works with a professional approach. The entire Port is a world of its own where interesting things are happening", he says.