Port's all-rounder is always ready for something new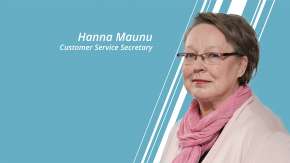 Customer Service Secretary Hanna Maunu has worked at the service of the Port of Turku for over 20 years. She started in the telephone exchange and as an internal messenger. The job was all new to her, as Hanna had previously worked in in an office job in the garden industry.
"I have done lots of different work in the Port. That's one reason why I like it so much. I've learned new skills and seen the Port's operations from many different angles. The work has kind of carried me away", Hanna explains.
A wide range of different tasks
From the telephone exchange Hanna transferred to rental services, ledger keeping, and collection. As the Port's organisation changed, Hanna got to try out new areas of responsibility.
"My current job description includes, for example, sales of parking permits for parking areas, monitoring of collection, acting as a substitute of coffee and conference services, and answering to different inquiries. I work within the Economy and Administration Department", Hanna says.
Over the years, Hanna has seen the transformation of the Port to its current form.
"Regulations have increased, and the job descriptions have also changed. Information technology now plays a big role in everyone's work, and it's also important in my job. You will always get along fine in your work if you're ready to look ahead", she says.
Joy from colleagues
The Port of Turku gets a high score as a workplace from Hanna. She particularly values the flexibility of the organisation and the way to look after the well-being of the employees.
"For me the most important thing is great colleagues, it's always nice to meet them at work. I also like the variation in my job. I get to work with different people, which gives a nice spark to each day. The positive feedback from customers is particularly heart-warming", Hanna commends.
Hanna also appreciates the solid expertise of the Port of Turku's employees.
"Thanks to the experienced Port employees all functions are arranged systematically and well. The Port adapts to all changes and always operates appropriately, whatever the situation in society. I am proud of e.g. that the Port of Turku plays a major role in the arrangements of the Tall Shops Races. All contacts with the authorities are also always maintained well", she says.