Lookout spot into the future of the Port of Turku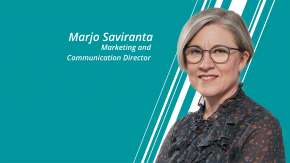 Port of Turku's Marketing and Communication Director Marjo Saviranta started work in the Port of Turku in the late 1990s as a deputy accountant.
"I took the post of Marketing Secretary at the beginning of 2000s. I had no previous experience in marketing and communication jobs, so I got to learn many things from scratch. I have indeed grown into this role and position by working and have at the same time learned a great deal about myself as an employee", Marjo explains.
Diverse job description motivates
In addition to learning by practical work, Marjo has complemented her expertise by taking various training.
"I have completed, for example, the training of a marketing assistant and specialist vocational qualification in marketing communication. In addition, I am currently doing specialist vocational qualification in management which will support me in my present position as a supervisor", she says.
The jobs in marketing and communication have become more versatile over the years. Continuous development of business operations also requires efficient marketing.
"My job includes a broad range of marketing and communication. I am responsible for its co-ordination on the whole and among other things the Port's website and online magazine Aboard. I also take care of e.g. the Port's visibility at fairs and various customer events."
Good results through co-operation
As her newest duty Marjo works as a supervisor, and finds it very meaningful.
"It's nice to works as a supervisor, because we have great team spirit, and I think that the various trainings have provided me with useful tools for supervisory work. Today, the Port of Turku invests a lot in managing people and job satisfaction. By working together we will achieve great things", she commends.
Working in the Port has always been very meaningful for Marjo.
"Marketing and communication measures generate visible results, which motivates me to move on in my job. It's important to me that we can work for the well-being of the Port and the area. I am proud of being a port employee and happy about all my colleagues. The Port of Turku's long traditions and active orientation to the future make this organisation special", she contemplates.