Expert of safe port operations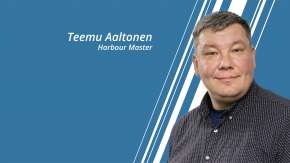 Teemu Aaltonen, Harbour Master of the Port of Turku, decided already in upper secondary school to find his way to the maritime field, but after studies he first went to work in other fields. Teemu decided, however, to apply again for maritime studies and graduated as First Mate in 2019.
"My first summer job in the field was as Harbour Supervisor in the Port of Turku's Vessel Services. I took care of mooring and unmooring of ships. When a suitable person was sought for the post of Harbour Master, I applied for the job right away. I started as the Harbour Master in June 2020 and keep going", Teemu says.
Safety comes first in operations
According to Teemu, the job description of the Harbour Master is interesting and suitably challenging.
"My duties include, among other things, giving out berths, vessel waste management, and organisation and development of the vessel services process. I do development work together with the Port's Security Manager and my supervisor. Acting as the supervisor of the Vessel Services unit is also an important part of my work. I have ten employees with whom we keep the Port of Turku's vessel services running", Teemu explains.
Vessel services are essential for the smooth flow of the Port's operations. Teemu also sees the value of his work and stresses the importance of safety in his work.
"My work is sometimes hectic, because the ship schedules are tight and the shipments have to proceed faultlessly. Experience gives assurance, however. We always go safety first", he stresses.
Smooth co-operation
Teemu considers agreed operating models and skills for anticipation to be important in his job.
"You must always follow the instructions, because they help to look after safety. Being able to communicate clearly is also very important in this job. Efficient flow of information helps to ensure that everyone assumes the right ways of working. Ability to co-operate and flexible approach to services also have great significance", Teemu says.
The best thing in Teemu's job is diversity.
"In the Harbour Master's position you get to make plans together with others. On the other hand, familiar routines are factors that provide a counterbalance for planning. I like to work with other people, and I think that we have great employees in the Port with whom the work gets done. Humour lightens up our fast-paced everyday work", he says.