Managing Director Christian Ramberg retired on pension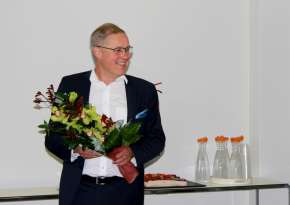 Long-time Managing Director of the Port of Turku Christian Ramberg retired on pension at the end of September.
Ramberg has been the port manager since 2000. Ramberg was at the helm of the Port of Turku since the year 2000, and during that time a number of notable reforms were implemented in the Port, and the port operations were developed in many ways. In addition to the operations of the port enterprise, the development was promoted by shipping companies, logistics companies, and other partners.
Of the important events during his term as the Managing Director, Christian Ramberg mentions the Port's strengthened position within the European transport system and the development of both cargo transports and passengers traffic.
During Christian Ramberg's term as the Managing Director the environmental impacts of port operations were emphasised, and the Port worked in determined fashion to promote sustainable port operations. Port of Turku is able to forward the waste water from all vessels calling in the Port directly to the City's sewer network. Environmental port charges were introduced in 2006, and the Port's own energy consumption has been reduced in many ways. The most recent contribution to the Port's environmental work was the decision to discontinue the disposal of dredging masses in the sea. All operations are guided by a certified environmental system.
In recent years, the Port of Turku has taken the first steps in the digitalisation of its operations. Concrete measures include the new gate system in the West Harbour and the order for an automatic mooring and unmooring system that anticipates the arrival of the new Viking Glory.
Christian Ramberg believes that twenty years from now the Port of Turku will be very different from what it is today. That is also the goal of the letter of intent on the development of the port area signed last year by the Port of Turku, City of Turku, Viking Line and Tallink Silja.
According to Ramberg, the letter of intent provides unique opportunities for strengthening that bond, when a new seaside district will rise near the Port, and with proper implementation it will make Turku more pleasant for its inhabitants as well as making the city more attractive to tourists. Two decades from now the Linnakaupunki district will have been completed and the Museum of Finnish History will have been opened next to the Turku Castle. The first passenger vessels will utilise the noiseless and emission-free hybrid technology, and car traffic will flow smoothly and safely from the port area to roads.
In his retirement, Christian plans to spend more time with his family and enjoy long walks with the dog. Also he plans to spend more time on hobbies; fishing and sailing in the archipelago.