M/S Serenissima will open the cruise season in Turku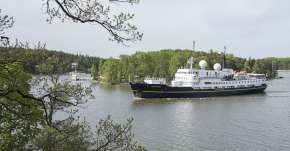 The international cruise season in Turku will welcome three larger cruise vessels and a number of private yachts. The season will be opened by m/s Serenissima arriving from Stockholm on 7 July. Serenissima is an expedition cruise vessel accomodating 100 guests, and can navigate as far away as the south and the north poles. With her compact size she can reach small ports that are inaccessible to bigger cruise vessels. Serenissima will moor at the river Aura, from where the cruise guests can easily reach the city centre.
Built in 1960 m/s Serenissima creates a feel of a traditional passenger ship with her unique style. She started her career as the Harald Jarl, cruising the Norwegian coastline and the fjords. Since 2003, after being extensively renovated she was renamed m/s Andrea. In 2013 she was upgraded again and started a new life as a classic cruise vessel m/s Serenissima.
In Turku the cruise guests can take part in guided excursions including Turku castle and other must-see sights, but also for example birdwatching, a short cruise and a tour to Meyer shipyard.
Serenissima called Turku previously in 2015 and we are happy to welcome her to Turku again!