The kick-off meeting of SecurePax project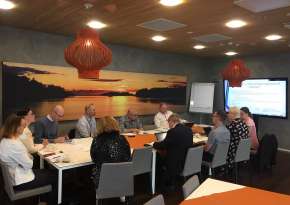 The kick-off meeting of SecurePax project was held today in the port of Turku. The meeting was divided in two parts; the first was a discussion about the roles and tasks of project partners, accounting, reporting and payment requirements, as well as communication and visibility.
The second part was also attended by representatives of stakeholders and authorities. In addition to repre-sentatives of the project participants Tallink Silja, Viking Line and Port of Turku, the experts of EU financing participated in the meeting.
The SecurePax project will pilot the passenger ports' security solutions. The purpose of the project is to develop methods that can identify passengers better and check that no prohibited items are taken to the ships. Potential security and ICT solutions for the future will be piloted in the passenger harbours of both Turku and Stockholm.