Get to know our staff – Harbour Master Antti Pekanheimo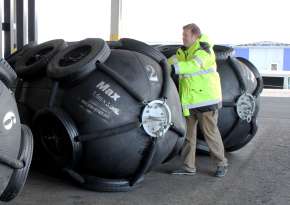 Harbour Master Antti Pekanheimo is responsible for the Port's operations, crane and vessel services. Antti's enthusiasm for seafaring originally stemmed from membership in sea scouts. He is Sea Captain by education and has worked on board ships as a captain, first mate, and mate. On land he has worked in ship management duties, e.g. as Marine Superintendent for Meriaura, as well as performing load inspections on vessels.
"I came here in 2007 to work as Harbour Master. My work includes many supervisor duties. I see what goes on in production and with the day's challenges and think about how the operations could be developed."
"Customer contacts are the most interesting thing in the work. Additional inspiration comes from arranging of events, such as the Tall Ships' Races and other projects. I like to work hard; events and projects where decisions have to be made quickly are different from the everyday work which is about proceeding steadily with consideration."
Antti thinks that marine environment on the whole is fascinating. His strength at work is the ability to get along with very different people. Antti feels that he can find solutions out of the box.