Get to know our staff – Marketing Manager Marjo Saviranta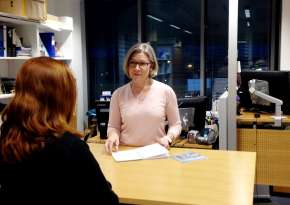 We introduce our own professionals in the #workingintheharbour series.
Marketing Manager Marjo Saviranta co-ordinates and manages the Port's marketing and communication on the whole. Her duties include e.g. arranging of customer events and fair exhibitions. At present, a large share of Marjo's working hours is taken up by social media and digitalisation of communication, such as development of the Aboard magazine into an online publication.
"I started in the accounting department in the Port, and knowing the organisation's finances has often come in useful. In fact I switched to marketing almost by accident, first as a substitute and then as permanent Marketing Assistant. I also completed the special qualification in marketing communication. I have now worked as Marketing Manager for two years."
Marjo's strengths in her job are the ability to see the big picture as well as details. She knows how to hold the strings and stick to schedules.
"I'm inspired by close co-operation with the customers. It's like one big family when we do marketing together with them. Our own team here is also great."