Get to know our staff – Development Manager Markku Alahäme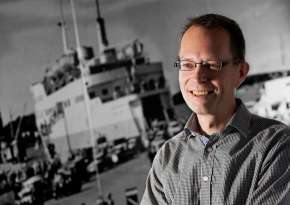 Development Manager Markku Alahäme is responsible for the Port's quality and safety systems as well as environmental issues. In addition, his job involves various projects, such as EU and training projects, and other development work.
"I worked previously at projects in the City of Turku's Environmental Protection Office. In the mid-1990s, the then Technical Director Matti Niemi and Head of Environmental Affairs Mikko Jokinen had discussed performing an evaluation programme of environmental impacts of the Pansio harbour, and I came to the Port to carry it out. It was followed by a quality system project which was given to me. Actually I'm still on the path opened by that assignment."
"I am Master of Science in Production Engineering by education. My work is diverse. It's nice to be able to see different things. My duties are not limited to environmental issues or the operations system, but there's much more. We have currently three EU projects underway."
Markku has moments of success when individual pieces start moving forward. They are small moments when you can feel that you have achieved something.