Silversea cruise line's Silver Wind closes Turku's international cruise season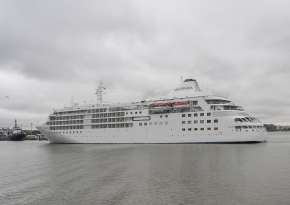 The international cruise season in Turku closes on Monday September 3rd with the call of Silversea cruise line's Silver Wind. She arrives from Tallinn and will continue in the afternoon to Västervik in Sweden. Silver Wind is a small luxury ship with just 296 guests and almost as many crew members with 222. All accomodations are spacious ocean-view suites. The ship has been refurbished in 2017.
Silver Wind is on a 10-day-cruise on the Baltic Sea and is also calling St. Petersburg, Tallinn, Ronne, Warnemünde and Travemünde. The port of departure is Stockholm and the port of destination is Copenhagen. In Turku the passengers can take various excursions such as a nature walk in Ruissalo national park, a canoeing adventure, Turku countryside and ship farm visit. The most popular excursion is the traditional Turku hightolights including a visit to Turku castle and Luostarinmäki handicrafts museum.
Silver Wind, like all cruise vessels calling Turku this season, makes a maiden call to Turku. We hope to welcome this beautiful vessel to Turku soon again.