The Annual report of Port of Turku 2022 has now been published
The Port of Turku started the year 2022 with great expectations, and the expectations were partly realised. As the pandemic was fading, the passenger numbers began to rise at the beginning of the year and finally reached the pre-pandemic level. Cargo transports also started at the rate of the previous year, but Russia's invasion of Ukraine and the decrease of cargo capacity on our Swedish route cut down the cargo volume transported through the Port. The goals were nevertheless reached regarding the finances of the port enterprise by adapting and enhancing the operations, the goal of which is to prepare for the challenges of the current year 2023.
The positive development of passenger traffic was strengthened by the new vessel Viking Glory introduced on the route between Turku and Stockholm. The popularity achieved by Viking Glory, which started regular service at the beginning of March 2022, is indicated by the fact that during the first year, it carried over one million passengers. That way it helps to compensate the decrease in departures
on the route, as Tallink Silja leased out its ship Galaxy from September 2022 for temporary accommodation in the Netherlands.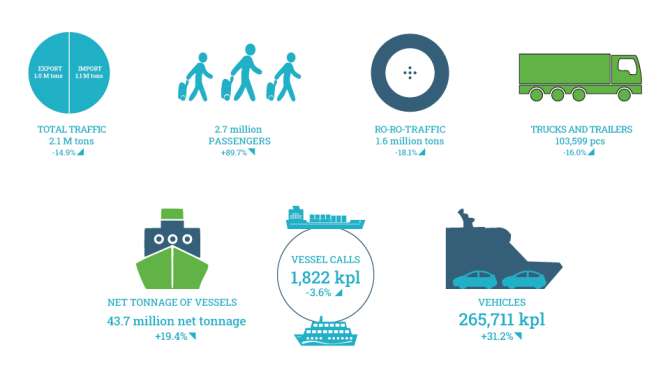 The global political and economic conditions with the energy crisis are also reflected in the Port of Turku. In spite of that, the Port's key development projects were actively forwarded in 2022. The Architectural competition for the Ferry Terminal Turku project was resolved in May, and the winner was a proposal called Origami designed by PES-Architects.
According to a market study conducted by the University of Turku, e.g. ship traffic between Turku and Gdynia, Poland is of interest to both cargo customers and tourists. Negotiations are continuously held on opening new connections with several shipping companies.
The past year eventually turned out to be different from what we anticipated. As the horizon seemed to be clearing, the world jumped from one crisis to another, which challenged both the Port's own organisation and our partners to respond to the changed situation. By acting together we managed to avoid the worst pitfalls.