Origami wins Port's architectural competition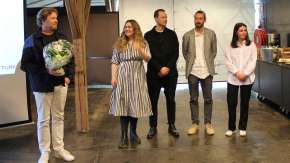 The architectural competition for the Port of Turku's new joint terminal concluded with the victory of PES-Architects. The agency's proposal named Origami was unanimously chosen by the jury, although the other two proposals in the final stage were also commended for their high-quality design. The keys to the success of Origami were clear functionality and expressive architecture.
"Origami matches best the goals set for the design work in terms of both the Port's operations and the Turku cityscape. The routes of arriving and departing passenger flows have been carefully planned to avoid congestion, and the airy indoor spaces with views opening through large glass surfaces create a pleasant milieu for starting a voyage. The architecture breathes maritime symbolism and combines sense with emotion into a package that convinced the jury", says Erik Söderholm, Managing Director of Port of Turku Ltd.
For PES-Architects the victory was the first step of design
PES-Architects Ltd is an internationally acclaimed Finnish architecture agency with offices in Finland and China. In Finland, the agency's most familiar recent works among the general public include the new T2 Terminal at Helsinki-Vantaa Airport and the West Terminal in the Port of Helsinki. In Turku, in addition to the Port's joint terminal, the agency's imprint will be visible in the architecture of the new music centre.
"Victory in this interesting and in many ways challenging architectural competition is particularly pleasing to us, and we will eagerly continue the work together with the Port of Turku. At the same time, you need to keep in mind that winning the competition could be compared to a 5000 metres' run from which you continue straight to a marathon. The development phase starting in the summer will last until the next year's summer, so we will have to reconsider many issues. In our previous projects related to transport construction we have noticed that the plans have to include modifiable options that also extend to the use of the building. Passenger terminals are multifaceted buildings with different functions and goals from the point of view of different user groups, and we need to be able to take all of them into account", explains Tuomas Silvennoinen, Architect SAFA, the principal designer of Origami.
Together towards the best possible outcome
"The proposal of PES-Architects will certainly evolve into an entity that meets our goals. In the starting development phase we will focus on cost-efficiency as well as improving functionality and use of space together with the future users, designers and project management contractors. The goal is, however, to solve the emerging challenges without compromising Origami's fine architecture, because our new joint terminal will serve as Turku's maritime calling card", says Managing Director Erik Söderholm.
The other proposals in the final phase of the architectural competition were called Aallonharja and Fokka. Aallonharja was designed by Zaha Hadid Architects, and Fokka by JKMM Architects.