Port of Turku's architectural competition proceeds to next phase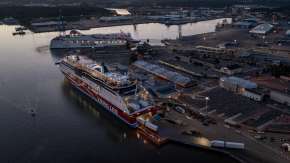 Phase one of the architectural competition for the Port of Turku's new terminal building is coming to an end. The architecture agencies selected to the competition submitted their proposals on 11 February, and the jury convened to make its first assessments on them on 14 February.
"Submitted anonymously at this point, the proposals are of high quality as expected, and offer interesting options for the further planning of the passenger terminal within the Ferry Terminal Turku project. The first impression indicates that all proposals are feasible, but before making further decisions we will have experts evaluate their functionality and construction costs. A key factor is the capacity of the proposed building to enable the smooth passage of increasing passenger volumes as well as cost-relatedness compared to the investment budget", says Erik Söderholm, Managing Director of Port of Turku Ltd and the chairman of the jury of the competition.
The design competition was arranged as a public procurement, and nearly 20 renowned architecture agencies signed up. Based on scoring of references, five of them were selected to phase one of the competition: PES-Architects, design team Helin & Co Architects and LPR-Architects, ALA Ar-chitects, Zaha Hadid Architects, and JKMM Architects.
"All selected agencies represent leading expertise in their field, and their design can be found in many important buildings. The group of four Finnish agencies is complemented by the internationally awarded Zaha Hadid Architects, the participation of which indicates the interest in Ferry Terminal Turku also outside Finland", says Sanna Kronström from Hankintakumppanit Oy that acts as a consultant of the design competition.
The selection process will continue after the review of costs and functionality in early March when the jury will choose two or three architecture agencies to the second phase of the competition. The proposals adjusted according to the development requests presented to the selected competitors are expected at the turn of April–May. The winner, or the architecture agency selected as the designer of the passenger terminal, will be announced by the summer.
The competition jury comprises of Managing Director Erik Söderholm, Chief Operating Officer Antti Pekanheimo, and Construction Manager Jouni Hildén from the Port of Turku, while shipping companies are represented by Nina Honkaranta, Regional Director of Tallink Silja, and Peter Forsberg, Port Operations Manager of Viking Line. An expert view is provided by Timo Hintsanen (Architect SAFA), Director of Urban Planning of the City of Turku, Janne Helin (Architect SAFA), Managing Director of Schauman Architects, and Pirjo Sanaksenaho (Architect SAFA), Professor at Aalto University.