Season's Greetings from Port of Turku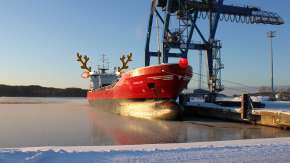 As Christmas time arrives, we think of nice things and smile. The long and busy autumn turns into a peaceful Christmas holiday for a while. The port also slows down for a while, but does not stop. Cargo moves, ships sail and passengers board the ships to spend Christmas at sea – all of these are served at the port also during Christmas.
This year we donate our Christmas gift money for the protection of the unique Archipelago Sea.
Thank you for the past year and we wish you a Merry Christmas
and a successful year 2022!