Top contenders in the architect competition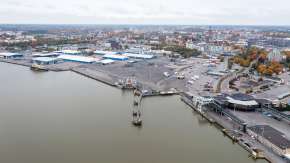 The contenders in the architect competition for the planning of the new passenger terminal have been selected. Almost twenty planning groups signed up for the contest that is arranged as a public procurement. The selection of the five invited architect offices were chosen by scoring references.
"Our competition attracted contenders of a noticeable high level and we are very pleased with the wide interest that the designers have shown towards Turku and the harbor", explains Erik Söderholm, managing director of the Port of Turku and chairman of the judging panel of the competition.
In the competition for planning the new passenger terminal are the following contenders: PES-architects, working group Helin & Co Architects and LPR-Architects, Architect office ALA, Zaha Hadid Architects and JKMM Architects. In addition to the Finnish contenders the internationally awarded Zaha Hadid Architects adds an extra spice to the contest.
"The competitors are the top class of architects and it is an honor to welcome them here to present their ideas regarding this new landmark to be built in Turku", rejoices Söderholm.
The drafts for the first part of the competition are expected to be received at the beginning of year and the final proposals shall be handed in later in the spring.
The winner of the competition and the final architect for the passenger terminal is planned to be announced before summer.
Hankintakumppanit Oy works as consult for the Port of Turku in the architect contest.