Because time matters – Port of Turku calendar 2021 has been published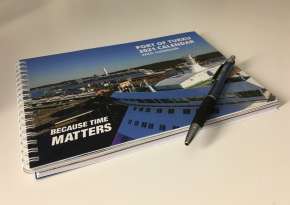 The long tradition will continue when the Port of Turku Port Calendar is published again. The calendar for 2021 contains basic information about the Port of Turku, its areas, operations and services. The clear calendar section has plenty of space for calendar entries, and if necessary, additional entries can be written in a separate notebook section.
We avoid unnecessary consumption in our operations, so we only post calendars upon request. If you want a calendar, send a message by email to markkinointi.satama@portofturku.fi.