Truck loading efficiency is being developed as part of the NextGen Link project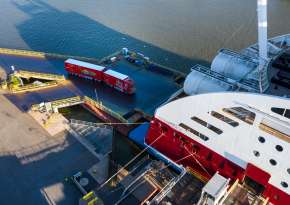 Construction work on a new heavy traffic measurement and identification system is nearing completion in the port. The system to be built on Viking Line's field is a significant improvement in loading trucks on the ship. Identifying, weighing, measuring and photographing trucks brings safety and facilitates more efficient and balanced loading of the vessel, which in turn brings energy efficiency.
Digitalisation plays a key role in the development of truck transport services. In addition to weighing, measurement and photography equipment, this will include the development of gate systems, vehicle identification and digital driving guidance when boarding ships in the near future. Automated vehicle control makes the flow in the car field smooth and safe and the loading of ships faster. These activities will also utilize the 5G network, which is in the pilot phase in the port.
The measurement system for the Viking Line area will be supplied to the Port by Visy Oy. The system will be put into trial use after the summer season, when the traffic arrangements in the area will be changed at the same time.
The heavy traffic measurement and identification system is part of the NextGen Link project, which is part of the Motorways of the Seas project, which in turn is part of the CEF (Connecting Europe Facility) programme. The project has received financial support from the European Union.