Come and explore the harbour on Turku Day, September 15th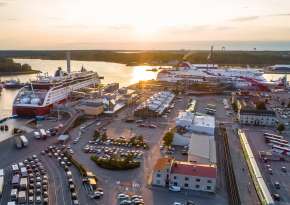 Open port event on Turku day September 15th
Welcome to explore the operations of the modernizing harbour on Sunday, September 15th. The guided bus and waterbus tours start from Forum Marinum.
Departures from FORUM MARINUM (LINNANKATU 72)
BUS: Tours in the fenced harbor area
at 11.15 / 12.00 / 12.45 / 13.30
The tour takes about 30 minutes • 45 pers. / tour.
Starting point: Viking Line area,
Forum Marinum side, access next to the crane.
WATERBUS: Tours m / s Aavatar
Non-stop 11.00–15.00
The tour takes about 40 minutes • 50 pers. / tour.
Starting point: Pontoon platform behind sailing ship Suomen Joutsen.
Last tour leaves around at 14.20