The last large-scale training of the HAZARD project was organized in the Port of Turku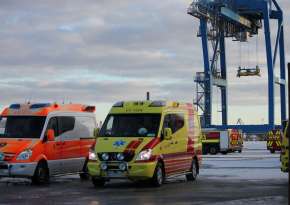 The 12th and final large-scale training of the HAZARD project took place on 28 November in the Port of Turku. Southwest Finland Emergency Services was responsible for the planning and execution of the exercise.
In the scenario, a large chemical leak was detected in the port area. While preventing the leak the fire fighters found in one of the containers some 25 persons, who didn't speak Finnish and were exposed to chemicals.
In addition, a warehouse fire broke out and an underwater rescue operation was carried out, where a person who fell into the sea after panicking was rescued.
The last part of the exercise was a press conference where senior officials answered a number of questions in three languages.
The main aim of the exercise was to develop cooperation, flow of information and communication between the authorities.
The participating organisations in this exercise were the Southwest Finland Emergency Services, Port of Turku, Emergency Medical Services/Hospital District of Southwest Finland, Southwestern Finland Police Department, the Finnish Border Guard and Turku School of Economics of the University of Turku.
The exercise is part of the HAZARD project funded by the EU Baltic Sea Program
The HAZARD project aims at preventing and managing major accidents and emergencies in seaports in the Baltic Sea Region.
The Southwest Finland Emergency Services is responsible for coordinating and managing the training activities, also the ports of Turku and Naantali and Neste oil port participate in the excercises.
Other key partners in the project are the ports of the European TEN-T network and their logistic operators as well as national and regional rescue services. The five academic partners of the project produce information about the prevailing situation, the methods of action and the methods of risk management. All in all, the project includes 15 partners from six Baltic Sea countries.
The budget for the project is € 4.3 million and it has received co-financing from the EU Baltic Sea Program for 2016-2019. Turku School of Economics is responsible for running the project.