Expansion of logistics area is an important part of development in Pansio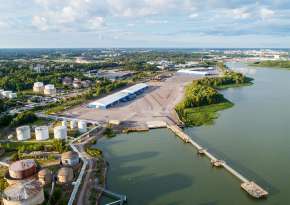 Pansio is an expansion area of the Port of Turku which has been developed since the 1990s. According to Jaakko Nirhamo, Sales Director of the Port of Turku, goods transports are also developed in Pansio district.
The West Harbour will continue to have great importance. A completely new harbour is, however, being planned for the Laivateollisuus area next to the Pansio harbour.
Expanding the logistics area in the Pansio harbour plays an important part in the development of the area. In the future, the port ISPS areas will account for a smaller share of the total area, which will allow for more diverse development of the area.
"We intend to make it easier, for example, to build terminals and warehouses near the harbour. That way the area will evolve better into a cluster for goods transports", Jaakko Nirhamo says.