Sponsored runner Markus Teijula becomes double champion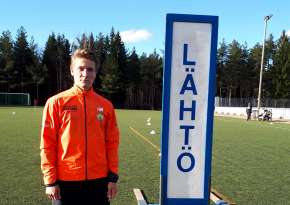 Our sponsored runner, 20-year-old Markus Teijula won Finnish championships on 400 and 800 metres last weekend.
On Friday, Markus won his first Finnish championship in men's 400 metres with the time 47.77, which is the season's best national result. On Sunday, he continued the winning streak in an extremely exciting 800 metres race in which he won in the final spurt with the time 1.49.38.
Markus has competed on 800 metres in the Finnish championships twice before, receiving a bronze medal on both times. He got his first Finnish championship bronze medal in 2015 when he was just 17 years old. He was then the youngest medallist in men's middle-distance running in 40 years.
Markus Teijula's list of achievements is impressive. It includes e.g. eight gold medals in Finnish championships of young people. Last year he won men's 400 and 800 metres indoor Finnish championships. He also has a couple of gold medals from the Nordic championships in the category of 19-year-olds.
The middle-distance runner has set his goals high, as he should. Two goals were set for this summer: to improve on the bronze medal in the Finnish championships and to reach the entry standard of the European Athletics Championships.
As all athletes, Markus aims at big arenas.
"My goal is to participate in the Tokyo Olympics in 2020 and preferably succeed in the following Olympic Games in 2024 and 2028", Markus says.