Social media is pop – We are now also on Instagram!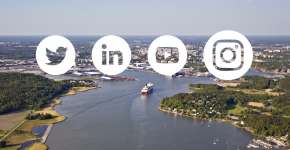 The Port's web pages are already familiar to many, but did you know that you can find us on social media, too?
The latest channel introduced by us is Instagram, where you can see also things not published in our other channels. Stories published in Instagram are like small titbits of events in the port and our followers can sense through them the atmosphere of the port area.
In addition to Instagram, you will find us on Twitter and LinkedIn.
Welcome to dive into the fascinating world of the port!