Viking Grace will be more environmentally friendly with the rotor sail unit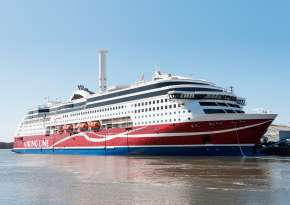 During its service days Viking Line's m/s Viking Grace also got new technology onboard when  Norsepower's rotor sail unit was installed this morning.
The provider of the rotor sail unit is a Finnish marine technology company, Norsepower. The rotor sail unit is a 24m high cylinder head installed on the ship's deck that converts the wind into the propulsion of the ship. The rotor sail unit operates automatically and the system stops when the direction of the wind changes unfavourably for the unit.
Viking Line's goal is to save fuel costs and test the Norsepower technology. The shipping company plans to install two rotor sail units for its new passenger ship, which is due to start operating on the Turku-Stockholm route in 2020.
Watch the video related to installation on our Youtube-channel.