Port to sponsor a promising young runner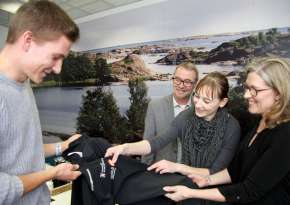 The Port of Turku has made a sponsorship agreement with the 19-year-old middle-distance runner Markus Teijula. The Port wants to support the young runner's goal to proceed from national competitions to international arenas.
For the Port of Turku, support to Markus Teijula means positive co-operation and visibility.
"Our main message is 'Because time matters', and we wanted to sponsor an athlete in an event in which time really does matter. That way our message will gain visibility", says Marketing Manager Marjo Ekman.
The meaning of time varies in different contexts. Ms Ekman contemplates that for middle-distance runner Markus Teijula it means running time, and it is different for passengers and cargo customers; time is a multi-dimensional concept.
"We wanted to find a local young athlete who may not yet be at the national top, but has the chance to get there. Representing Naantalin Löyly, Markus Teijula fulfilled all criteria."
The Port of Turku can thus support an athlete who is at the beginning of his career and for whom the support makes a difference.
Increasing speed on the scoreboard
Markus Teijula's list of achievements is impressive. He has e.g. eight Finnish championship gold medals of young people. Last year, Mr Teijula won both 400 metres and 800 metres in the indoor Finnish championships in adult category. He also has a couple of gold medals from the Nordic championship games of 19-year-olds.
Mr Teijula holds some national records in different age categories. In 2015, he ran the national record of 17-year-olds on 600 metres at 1:21.01 and on 800 metres at 1:50.46.
"The Finnish record of 17-year-olds was maybe the one that felt best. Knowing that you're the best in that age category ever", Mr Teijula says.
Training in Santahamina
In the spring, Mr Teijula is doing his military service in Santahamina in the sports school of the Finnish Defence Forces which is part of the Guard Jaeger Regiment. In the autumn, he will commence studies in the Turku University of Applied Sciences and continue training in a familiar environment.
Markus Teijula trains in a team of six with track and field athletes specialising in different events. In addition, he is part of a runner team with athletes from the whole of Southwest Finland. The exercises comprise of diverse complementary and core training. His principal event of 400 metres requires especially explosive speed.
"My goal for the coming summer is at the Finnish championship games where I aim to improve on my last year's bronze medal."
The other goal is the entry standard of the European Athletics Championships.
"It's not far, but is nevertheless surprisingly far. I should slash a second off the time I ran in the Finnish Championships in Tampere to reach the entry standard of 1:47.60."
Mr Teijula's goals are set high, as they should be.
"My goal is to participate in the Tokyo Olympics in 2020 and preferably succeed in the following Olympic games in 2024 and 2028."
Great news
Finding a sponsor is excellent news for Markus Teijula. It will allow for travelling abroad for competitions and thus moving on to international arenas.
"This year we will travel to Great Britain where there are really some good 800-metre races."
And Markus Teijula is worth following, up to the last metres. He has the ability to put everything at stake.
"I can usually put on a final spurt", Mr Teijula promises.