Finnlines vessel capacity has increased by thousands of lane metres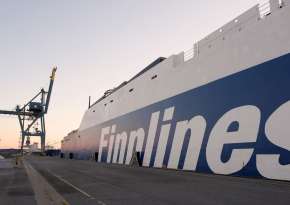 With MS Finnwave arriving on Saturday, 27 January, Finnlines will switch to lengthened vessels for scheduled traffic in Turku. The route will be operated by MS Finnwave and MS Finntide, the latter of which was lengthened already in late 2017. MS Finntide called in the West Harbour for the first time after the lengthening in early December. At the same time, Finnlines moved its operations in Turku from Pansio to West Harbour.
For port operator Finnsteve, part of Finnlines Group, the transfer of operations from Pansio to West Harbour is a positive change.
"Moving from the Pansio Harbour to West Harbour has made our work easier; we now operate in just one place instead of having to decentralise the equipment and personnel resources to two harbours", says Simo Laurila, Regional Director for Finnsteve in Turku.
MS Finntide was the first Breeze series ro-ro vessel that was lengthened. Built in 2012, the vessel arrived in Gdansk for lengthening in September 2017. As planned, the vessel was cut in two and a 30-metre section was inserted between the parts. The sections were then welded together again, and the vessel capacity increased by around 1,000 lane metres.
After the modification the length of MS Finntide is 217.77 metres and it cargo capacity is 4,213 lane metres. In practice, around 1 km of trucks more per ship can be hosted on board.
The lengthening of ships is part of Finnlines' investment programme launched last year and aimed at improved energy efficiency and reduction of emissions. Within the investment programme Finnlines is lengthening four Breeze series ro-ro vessels, with options for two more ships. The whole lengthening programme will be completed by May 2018.
The nearly 30% capacity increase will considerably reduce the fuel consumption per transported unit. That will improve energy efficiency further and thus contribute to reducing emissions.
"Finnlines has continued to invest in its fleet to become a more environmentally sound and a more sustainable shipping company. In response to growing demand, we are expanding our fleet capacity through this lengthening programme. This way we can serve our customers better and grow together with them," says Tom Pippingsköld, CFO of Finnlines.