Mann Lines' ML Freyja arrives in Turku on January 5th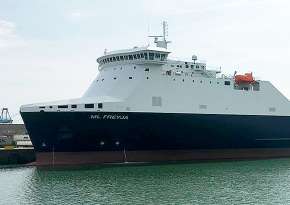 The latest arrival in the Port of Turku is Mann Lines' m/s ML Freyja, which starts to operate on January 5th on the route Turku-Bremerhaven-Harwich-Cuxhaven-Paldiski-Turku. The vessel replaces Stena Foreteller on the route.
Coming straight from the shipyard, the new ro-ro vessel ML Freyja is fifteen years younger than its predecessor and operatively more efficient.
"The new ship will bring a continuation to the line far into the future," says Timo Helanto, Managing Director of Mann Lines. "Modern technology increases operational reliability and reduces emissions. It also enables us to enhance the handling of cargoes in ports and therefore we can expect shorter stays in port, "adds Helanto.
ML Freyja has room for two tiers of containers on the deck and is able to carry heavier items, which is a benefit for the projects shipments of industry in particular.
"Generally speaking, all products of the manufacturing industry are well suited to ML Freyja both in export and import," explains Timo Helanto.
The length of the vessel is 191.4 metres, width 26.2 metres, and the height of the main deck is 7 metres. There is around 3,000 lane metres of vehicle space on board.