Extra-long articulated vehicle is green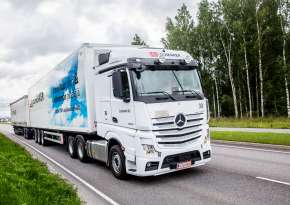 DB Schenker currently uses HCT (High Capacity Transport) vehicles on two trunk routes in Finland, Turku–Vantaa and Sipoo–Seinäjoki. The goods carried between the terminals in Turku and Vantaa mainly consist of foreign and domestic general cargo.
An HCT vehicle requires a special permit. Its maximum total weight is 92 tonnes and total length 33 metres, while the maximum length of a regular articulated truck is 25.25 metres.
Greater total length allows, for instance, connecting a foreign semi-trailer to a truck heading from the Port of Turku to Vantaa. The trial started at the beginning of June.
"We have had positive experiences. I believe that there won't be any problems in ordinary winter conditions, either. These trucks are fitted with all possible safety and auxiliary equipment. It is stated in the permit that during red weather conditions these vehicles must not be operated at all", says Petteri Nurmi, Head of Land Transport Finland.
On the Turku–Vantaa route DB Schenker uses recycled fuel made from bio-waste by Neste, which reduces the CO2 emissions by 90%. Thanks to the high capacity of the HCT vehicles their environmental load is also otherwise smaller. The HCT trial permits will be valid to the end of 2021.
Published at Port of Turku Customer Magazine Aboard 2/2017.